VCAP-DCA - My Experience
16 Sep 2011 by Simon Greaves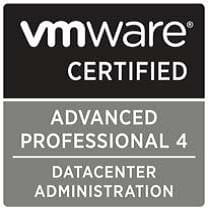 I recently sat the VCAP-DCA exam having spent the last couple of months with my head in the books preparing for the exam.
I am very pleased to announce that I passed the exam.
I have been on the 'certification road' for about 8 years now, and during that time each exam I have taken has got progressively harder and harder, and this exam, the VCAP4-DCA exam is the hardest yet.  However given time and practice it is something that is achievable to any budding virtualisation geek! So I guess you are reading this because you want to know what the exam has in store for you.  Well, thankfully there are a lot of generous people out there who have taken the time out of their day to provide the likes of you and I with the materials to assist with the preparation that is essential prior to taking the exam.  There are the official courses from VMware, excellent study guides from people such as Ed Grigson (can't recommend this enough! Thanks Ed) and Sean Crookston/Damian Karlson, articles such as those from Frank Denneman and Duncan Epping on HA and DRS (Not to mention their excellent HA and DRS Deepdive book), the VMworld videos from 2008-2010 and last and by no means least the Trainsignal VCAP-DCA training DVD's.  David Davis does a great job of explaining how to do everything relevant to this exam.
I have written a few articles myself relevant to the VCAP-DCA exam.
Esxtop Guide
Distributed Virtual Switch Guide
Connecting to an iSCSI SAN with Jumbo Frames enabled
Ray Heffer has written a few guides that make a nice addition to the study guides by Ed and Sean/Damian
Study materials used for the exam
Home Lab
Lab on laptop (for on the train, very useful)
Trainsignal vSphere 4 VCAP Training DVD's
VMworld Videos - Specifically those mentioned in Ed's guide
I also had access to the VMware Troubleshooting lab material from the classroom based course and from what I read I would highly recommend attending the course if you can get funding to attend it.
That is pretty much it, materials wise.  I think the trouble is that there are so many resources out there on the internet related to the VCAP-DCA that you can end up drowning in study material.  As long as you have a good, solid understanding of VMware vSphere server virtualisation then the materials I have listed above should prove ample to pass this exam.  This is said with one proviso; everything you learn you must practice in your home lab to stand any chance of performing the tasks on exam day.  Some of the PDFs are available to read during the exam on how to perform tasks, but you won't have time to sit there and read step-by-step guides.  If you can't perform a task before you enter the exam room, you are unlikely to be able to do it during the exam!!  So remember, lab time, lab time, lab time!!
Now on to the exam.  I ended up taking the exam at the Global Knowledge offices in Wokingham as I figured that I could have a leisurely drive there and read over my condensed notes prior to going in.  Unfortunately I forgot to account for the M25 motorway getting in my way!! I arrived with 10 minutes to spare and had to go straight in.
I cannot go into the specifics of the exam as per the NDA.  I will however say that the 3 1/2 hours you get is not enough time to do the exam tasks as you would do them in a normal environment.  I would focus the last week or so of your studies purely on performing tasks as quick as possible, but not too quick so as to make mistakes!!
This is one of my favourite exams I have taken.  I like the lab based environment rather than the multiple choice option available in so many other exams.  As I said though it is hard work, but well worth the effort.
Now I just need to wait for my welcome pack! I hope you find this information useful and I wish you luck in your exam. Oh, and in case you are wondering, I am going to do the VCAP4-DCD next…….