VCAP-DCA resources
28 Aug 2010 by Simon Greaves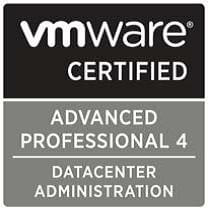 Here are some links to external resources and links to help pass the VCAP-DCA exam and to also learn as much as possible about VMWare virtualisation.
First and foremost I would recommend going over all the PDFs on the VMWare website that I used to pass the VCP exam in the first place.  There is a lot of information in these PDF's and I am sure that reading those again will remind me of things I forgot all about since I read them. From the general consensus of those people who have taken the exam so far this is quite possibly one of the hardest exams out there and knowing those VMWare PDF's inside and out is essential.
The PDF's are listed at the end of each exam objective and so I won't provide additional links here for them I would just recommend checking out Kendrick Coleman's website.
VMware Certified Advanced Professional forum - VMWare communities website covering both the VCAP-DCA and the VCAP-DCD exam
VMWare Knowledge Base - VMWare Knowledge Base full of technical resources and references covering everything from the data centre & desktop environment as well as providing additional developer support.
Sean Crookston - An excellent site containing links listing the exam objectives and resources to help with studying each area.  it also has a PDF version of the same information.
Kendrick Coleman blog site - Also containing a list of the objectives and links to various sites with information on the study areas.
vExperienced.co.uk - Ed Grigson's VCAP-DCA study notes.  Also available in PDF format.
Eric Sloof & vSphereReference - VCAP-DCA practice questions.  Multiple choice to gauge exam readiness written by Robert Stothard.  Robert also wrote these flashcards.
Greg Robertson - A great central location of various recommendations to help study for the VCAP-DCA and soon some VCAP-DCD links as well.
VMWare Videos & Train Signal Videos - David Davis provides some excellent videos on all aspects of VMWare virtualisation and he has released several videos in a series covering the topics covered in the VCAP-DCA recommended classroom courses.  This is the first VCAP-DCA video training series available.
Videos
VMware vSphere PowerCLI Training
VMware vSphere Troubleshooting Training
VMware vSphere Performance Monitoring Training
VMware vSphere Security Design Training
VMWare KBTV - Knowledgebase TV from VMWare covering many topics including some items listed on VCAP exam blueprint.
VMWorld Sessions - Sessions recorded at each VMWorld conference since 2004.  The 2010 is only available if you were at one of the VMWorld sessions this year.  There is about 275 hours of videos available!!
Ray Heffer - Ray has been compiling a series of VCAP-DCA articles over on his website.  Ray is a vExpert 2011.
Books
I would also recommend the following books for those times when a PC or internet connection is just not an option.
VMware VSphere PowerCLI Reference: Automating VSphere Administration
Maximum VSphere: Tips, How-tos, and Best Practices for Working with VMware VSphere 4
VMware vSphere 4.1 HA and DRS technical deepdive